If you are reading this words then I was probably able to grab your attention. I hope you will take some time to read on and look around this website: I believe it's worth it.
I've loved animals ever since I was a child, which is why I've always tried to have nature and animals around me, especially dogs. In 2011, after a wonderful training course, I eventually earned my Dog Training Certificate.
My passion for the Canadian Eskimo Dogs started around 2009, when I discovered this breed by chance, reading a book that I bought at the main train station in Rome. It was love at first sight.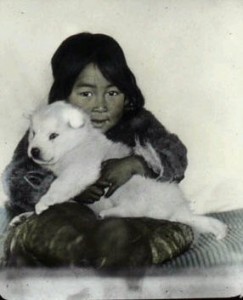 I started to look for more information on the Internet, but it was not as easy as I thought, because here in Italy no one, including our National Kennel Club, knew this breed.
After researching for a while, I learned that the Canadian Eskimo Dog, also known as Inuit or Qimmiq (a word which in the Inuit language simply means "dog"), was first bred by the Inuit people who live in the Arctic regions of Canada, Alaska and Greenland.
It was used as sled dog and for hunting oxen, bears and other big animals, thus becoming essential for the Inuit way of life and survival.
The Canadian Eskimo Dog is an ancient breed, strong and resistant to the harshest weather conditions and it has been even used to keep polar bears away.
Around 1970, with the rising popularity of snowmobiles and the introduction of other breeds, the Canadian Eskimo Dog started to decline and in a few years was (and it still is) at risk of extinction.
The situation was made worse because this breed hadn't been exported to other countries, as was the case for the Siberian Husky, Alaskan Malamute, Samoiedo, and Greenland.
Thanks to many Canadian and English breeders, that tragic situation began to change; nowadays the Canadian Eskimo Dog is enjoying rising popularity in the UK and other Northern countries.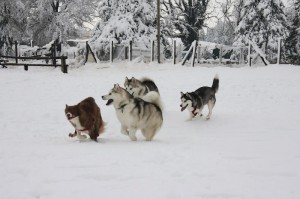 On May 1, 2000, the Canadian territory of Nunavut officially adopted the "Canadian Inuit Dog" as the animal symbol of the territory.
The aim of this website is to spread the knowledge of this breed anywhere in the world, and to collect all the registered CEDs in a comprehensive database that all the breeders can search when they want to breed, in order to avoid close blood relationships. You will be able to see the dog's genealogy as a beautiful genealogical tree, like this example
At the present time this breed is recognized only in Canada, and the Canadian Kennel Club has 300 registered dogs. Our goal is to obtain recognition in Italy and other countries, and even from the Fédération Cynologique Internationale.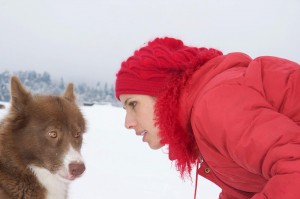 If any of these desires ever materialize I have to thank all the wonderful people who are helping me (for free!), to bring this project to life. First of all Fabrizio Giammatteo, for his illustrations, the photographs and programming, and Luca Piscitelli, who made the design and customized the website. Of course I am grateful to all the breeders who helped us, especially Heidi Hoye, Beverley Arseneau, Kelly McGill and Racheal Bailey. A special thank to Beverly Arseneau, who gave me my dog Phoenix.
A special thank also goes to the people who helped me to realize this dream: Alessandro Romani, Clemente Vernile, Maria Grazia Santini and Dr. Fabrizio Cervini, who takes care of Phoenix health, and finally, a mention goes to my personal muse, who fills my heart with joy every day: Phoenix.
Some time ago I had the great honor to meet a famous ethologist who taught me to look at life with passion and from different perspectives, He used to say a beautiful sentence that has remained in my mind… "Life is great". Thanks, Professor Roger Abrantes.
I really hope in your help.